Application
The inspecting paper container/cup machine is an optional equipment on the paper cup manufacturing line, which is mainly responsible for automatically inspecting the finished paper cup whether has problems of stain inside and outside of cup, seam open and bottom leakage and so on.
Parameter
| | |
| --- | --- |
| Inspecting speed | 240 pcs/min |
| Inspecting position | Cup-mouth, inside wall and bottom, outside bottom |
| Inspecting item | Seam open, inverse curling, bottom leakage, damage, deformation |
| Net weight | 600 kg |
| Power supply | three-phase 380V |
| Total power | 3.8KW |
| Air consumption | 0.1cube/min |
| Dimension | L1760*W660*H1700mm |
Feature
1. The paper cup inspecting machine can work independently with paper container forming machine and quickly inspect finished paper container with high precision.
2. The inspecting device adopts Japan Keyence vision system with functions of data construct, backup, query, management, etc.
3. The inspecting machine has high inspecting speed. The online inspecting speed is up to 240pcs/min and the machine supports long time inspecting.
Inspecting method
Firstly, choose a qualified finished paper cup and use industrial camera to photo the bottom and inside of the cup. Then input the data into system as reference. Therefore, in the production process of paper cup, industrial camera will photo each finished paper cup and compare the date with reference data in the system. If the data is difference, the inspecting cup may have the problems of damage, stain and others and the inspecting machine will discharge the degraded product automatically.
The inspecting paper container machine was designed in 2014 by our technical team according to customer's requirement, which is mainly used to solve the quality control problems in mass production.
Dimension diagram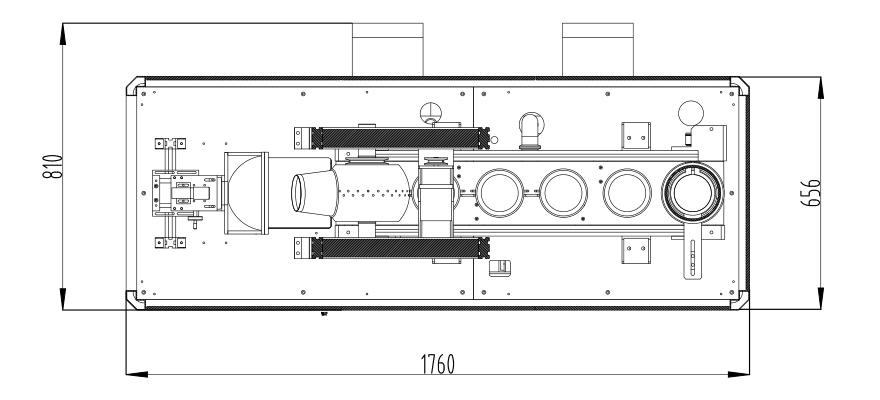 Our company is specialized in manufacturing disposable paper cup/container machines, we are a leading recycle paper container manufacturer, offer paper cup forming machine for coffee cup makers and water paper cup makers, and offer paper dining bowl making machine since 1998, we have made completed lines for making quality disposable paper cup and bowl machines, also we are offering the custom molds to match the machines.
Index
paper cup machine, paper container machine, paper cup making machine, coffee cup machine